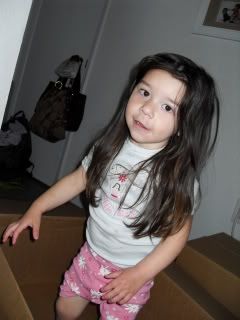 Hi all! This is a photo of Miss Ava playing in boxes, and so the age old mystery of why children love boxes over the usually expensive toys that come in said boxes, continues. ;)
So as many know we heard back from the Cardiologist's office last week, but nothing was totally clear yet on what exactly was decided and why. After an extended vacation from phone calls and all consuming thoughts, we decided we needed to call back finally and hear some concise plans. So after being able to speak with the Dr. personally(we <3 Ava's Cardi!), we have learned that all involved believe it is best to first address the left pulmonary artery issue. And although Dr. Van Gundy saw narrowing in both right pulmonary arteries in the cath lab, her last lung perfusion scan taken just a couple of months ago showed that there is great flow on that side. So the focus will remain on the left side. It is also
possible
that by having that left pulmonary artery open, it will help with the conduit/valve leakage, though not guaranteed. So right now we are taking it one step at a time, starting with the most important.
Ava is showing no signs of fatigue or distress, at ALL. Quite the opposite, really. This girl has never been more active or crazy than now! We joke about how scary the thought is that this IS a fatigued Ava and what is she going to be like after the ballooning and how in the heck are we going to be able to keep up if we are struggling now as it is?!! ;)
Another thing I want to update loved on is the fact that Ava's THIRD(wow) Birthday is almost here and I am a busy bee starting the planning and organizing. The rain better keep itself in check this year, too! No ruining her day this year!! Invites and more info will go out later. Until then, please keep May 30th open to not only celebrate Ava's Third Birthday, but also her two open heart surgeries that both happened one week after her birth and first birthday, surgeries we will forever be grateful for, they gave us the happy, healthy little girl we know and love. :)
Ava's Birthday Invite I have Been Working On:
Her custom birthday tutu and hat(it's a tradition!) courtesy of the fabulous Kel over at Posh Party Couture: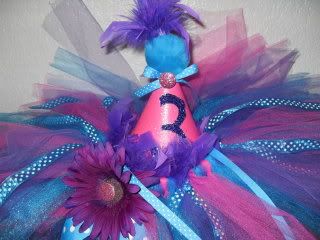 Once I have a date set for the cath I will again update everyone. Until then, please keep the thoughts, prayers, chants and vibes a'comin her way!
Love, Ava's Mommy :)