So as everyone should know, yesterday was Miss Ava's heart catheter. Things, of course, did not go as expected, though...
The day started out in our casa at 4am, after mom and dad showers, we woke the diva up(brother spent the night at grammy and papa's so he could get to school), she was in a super good mood and woke up all smiles. Lucky her, after an obscene amount of caffeine I still couldn't pull that off until at least noon on a regular day. ;) We make it to UCD admissions by 5:30 and get all signed in, sent off to the 7th floor, where the front desk lady tells us we are going to have to wait in the examining room because they weren't expecting us until 7:30 and do not have a bed available yet, thanks Dr!! :P Then it's just the waiting game. They got a bed free for Ava, but once we get in here she is a screaming banshee loud(playing) mama and is disturbing her neighbor. So we moved her to the family waiting room which is the size of a matchbox but at least has a VCR and lifetime supply of toddler movies. There we waited until the anesthesiologist found us and went over what will be going on downstairs. Then we waited somemore, went back to Ava's room because the transport team would be arriving soon to take my baby down to the Cath Lab. Once they got there and we all went downstairs(Ava in Daddy's arms, he was more than happy to oblige) and into the Cath Lab halls, the main anesthesiologist came by and talked to us somemore, he was a REALLY really nice guy and he even sat and played with Ava to make her comfortable. Then came Dr. VanGundy, more playing with Ava, she was hamming it up as usual, all questions we asked and answered. We were told to expect a minimum of three hours from the time we leave for the waiting room. Then they let me go into the Cath OR with Ava while they prepare and get her ready to go, which shows my state of mind because I failed to realize that meant I would be watching them give her the sleepy gas... I will honestly probably never ever do that again.
So we get back to the waiting room, I try to read, pointless. Greg leaves to go back to the house to get my phone I forgot, and about 45minutes later, at 10:20, Dr Van Gundy comes in through the door to the lab. You instantly know something is up because he is out here MUCH too early, and a million things are running through your head. The thing I try to always focus on is how the Dr. looks, and while he didn't look thrilled(when do they ;), he also didn't look like he did the first time I met him, thank goodness. Anyways, he told me that he started the cath, got his camera up there, and saw a few more problems. First being that not only was Ava's left pulmonary artery narrow, both on the right side were, as well. Secondly, her conduit is leaking back, we already knew there was SOME leakage, but her last echo showed no sign of more, but now it's looking pretty bad. So he had to stop what he was doing, and phone up Dr. Raff(ped. card. surgeon at UCD), Raff pretty much told him to not continue with the ballooning because you can't balloon one side and not the other's and you need two technicians to balloon each side when both are bad, should there be stents instead of ballooning, and the conduit issue now needed to be addressed also. He told me he can't give me a plan for her yet, that he needs to teleconference with all UCD and UCSF drs and they would decide then the best plan for her. He apologized and talked about how he knew we were super nervous about the cath, and now...this. He told me Ava otherwise did really well, there were no *complications* and they are letting her wake up, that is should be another half hour before I could go back and see her.
Ava woke fine, after about an hour in the recovery area, we went back upstairs to her room. There we pretty much spent the next 5hours trying to hold Ava down and not let her standup, kick, situp, be a darn maniac, ETC. Elmo movies came in handy fosho. But so did visitors, Auntie Tiff and Mr. Christopher came by with STARBUCKS(my third of the day, who needs food), and visited for a bit. My Mom, Dad and LilG came by soon after with sammiches(okay, we all need food), and stayed for a bit. Ava loved her visitors!!!
Finally, we packed up and headed OUTTA there around 6pm. Not bad. Ava went straight to her room and into bed when we arrived home. It was cute. So I got her in her pj's and brushed her teefs, read a story, gave LOTS of lovins, and she was out for almost the whole night.
Today, Ava has been running around like a darn maniac! I am not sure there is anything in this world that could slow my girlie down. And I really don't want to find out. ;)
So now we wait until we hear from Dr. Van Gundy. Which should be Thursday. I will update then. Pray for the best, whatever that may be, please. :)
Pictures from the day: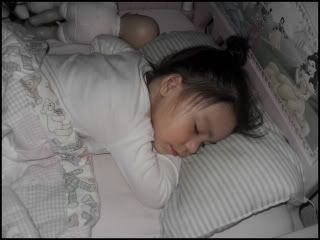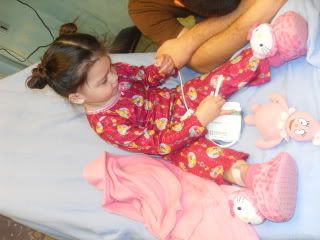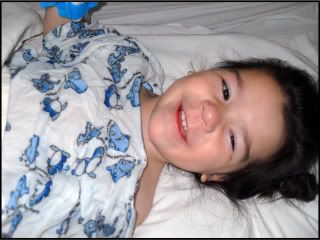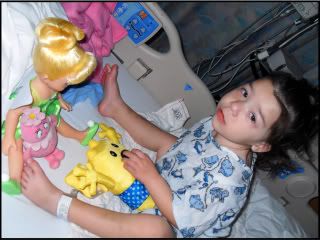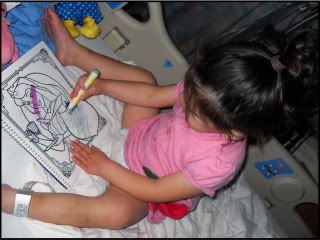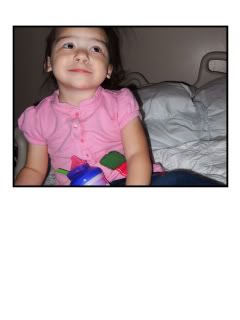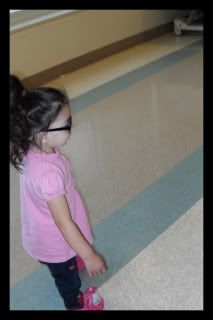 ...andddd she's OUTTA here!!